ICC International Mediation Competition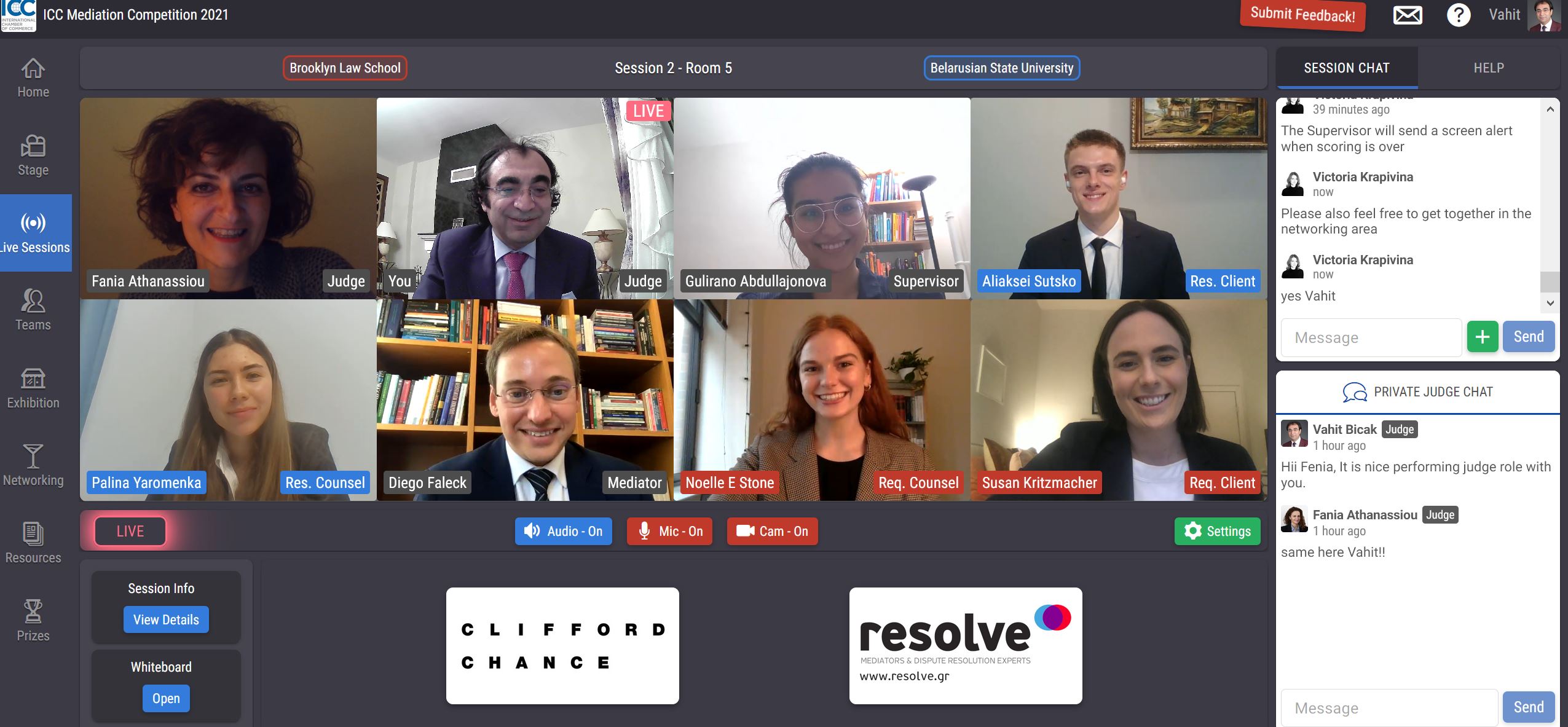 Just & Fair is delighted to be a contributor of the 16th annual International Chamber of Commerce (ICC) Mediation Competition. The founding partner of the Just & Fair Mediation Centre, Prof. Dr. Vahit Bıçak was acted as selected Judge for the International Commercial Mediation Competition (ICC, Paris). He assesses each team's negotiating and problem-solving skills, as well as their ability to make good use of the mediator.
Being a judge
Pofessor Dr. Vahit Bıçak stated that "I greatly enjoyed being a judge at two sessions, acting as a reserve judge in another two sessions and acting as an obserber on one session during the week. I would like to  praise the students' excellent preparation, high level of skills as well as their ability to seamlessly navigate in the virtual space. Thanks to the ICC Organizing Committee for making it possible for us to be a part of this wonderful educational event online".
Online educational event
ICC's biggest educational event of the year is hosted online for the first time in 2021. The highly-anticipated event provides a unique opportunity to share knowledge, discuss new developments and gain valuable insights on the latest techniques, strategies and trends in the field of mediation.
Putting theory into practice
The event gives students the opportunity to put theory into practice and to interact with some of the world's top mediators. This unique exchange is an opportunity for professionals to enlighten and engage a new generation of mediators and mediation users through guidance, feedback and support.
The ICC Mediation Competition gathers 250+ students and coaches, as well as 120+ professional mediators and mediators trainers from all over the world and a number of volunteers, sponsors and observers. 48 university teams  is selected to compete in 100  mock mediation sessions.
ICC Mediation Week
Running from 5-11 February, the ICC Mediation Week features 48 university teams competing in over 100 Mediation sessions, as well as offering various training programmes and the ICC Mediation Roundtable for the latest industry trends throughout the week.
Mediation Lessons From Judging
Here are my top tips from observing and judging the competitors that I think are helpful for anyone involved in mediations as a mediator, lawyer or client.
Do not over-complicate the opening statement with lots of detail over case histories or plans for the mediation. Instead, focus on a key theme and a purpose for the mediation.
Think about how you can help the other side to understand what you are saying. Make it normal to ask for clarifications of language and meaning by suggesting this point in the opening.
Work out which points are likely to be difficult for the other party before the mediation. Do not attempt to ignore, water down or sneak through these points. Rather, introduce them as points for discussion early on.
If the mediation is a positive collaboration, you need to scrutinise the terms of the deal as much for workability, as in a standard deal. Do not be blinded by good will.
Finally, the other side may dislike what you want to talk about but they should never dislike your tone. Be reasonable and measured at all times.