Serving as a Judge for MediateGuru Mediation Competition 2023!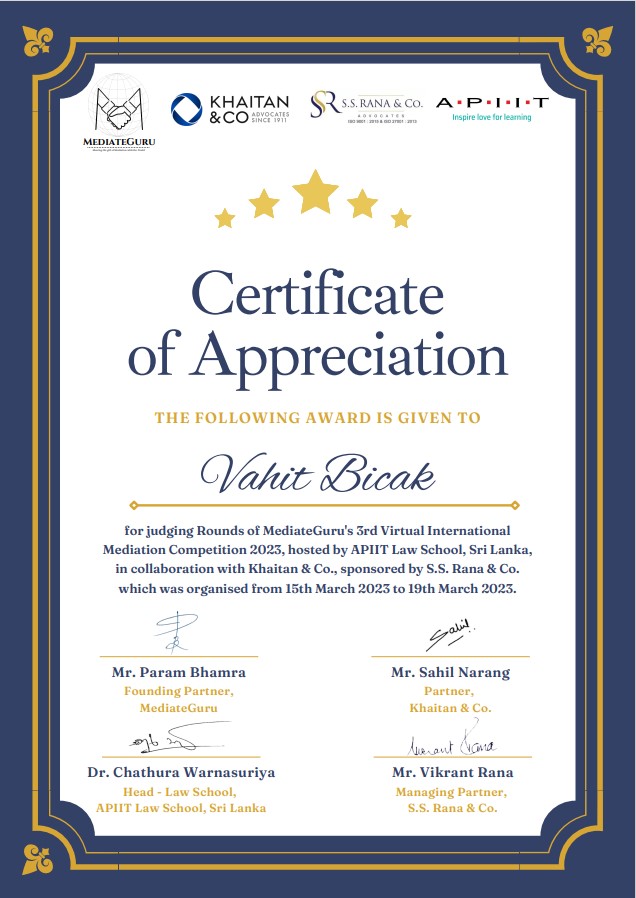 Founding Partner at Just & Fair Mediation Centre had the honour of serving as a Judge for MediateGuru Annual Mediation competition 2023!
Founding Partner at MediateGuru Param Pharma send a token of Appreciation for Judges' of 3rd VIMC'23 and a letter stating that; 
On behalf of our entire team at MediateGuru, I wanted to extend a heartfelt thank you for your time and expertise as a judge for our annual mediation competition. Your invaluable contributions were integral to the success of the competition, and we couldn't have done it without you. 
Your thoughtful insights, feedback, and evaluations were instrumental in helping us identify our winners and in providing valuable feedback to all participants. We are truly grateful for your dedication and commitment to the practice of mediation and for sharing your expertise with us.
We appreciate your willingness to volunteer your time and efforts for this competition. Your contribution has helped us promote the practice of mediation and highlight the skills of our participants.
We hope that you found the experience as rewarding as we did and that you will consider joining us again for future events.
Once again, thank you for your time, effort, and expertise. We are honored to have had you as a judge and grateful for your contributions to the success of our competition."